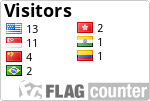 I've never liked those blog sidebar maps that post a dot or pointer for every visitor. If you get any traffic at all, they turn into an impossible-to-read mess. While browsing the Challenge Yourself to Blog site this morning, I found a link to this Flag Counter widget.
Much better! Unfortunately, there's no way to go back in time to catch the flags of prior visitors. But I will enjoy watching my flag list grow over the next few months…
Technical Notes
Because this is a toy and not something that helps your readers, it should go at the bottom of your sidebar, along with other non-essentials like sidebar badges and buttons. See Sidebar Widgets for the more important items.
The widget is WordPress.com-friendly (no javascript), and you can control the text and background colors, the maximum number of flags displayed, the number of columns, etc. If you want to grab one of your own, go to the Flag Counter website and click the yellowish Get Your Flag Counter button. Then copy the HTML they give you and paste it into a Text Widget.
Note: If you have more than one website, you have to get a new counter for each site, or else the stats will get mixed together. Instructions for modifying the counter near the bottom of the FAQ page.
How to Create a Text Widget
The "silent movie" version…